Simona

A degree in Sculpture from the Academy of Fine Arts in Florence. An expert since a tender age, in manipulation genetic dolls and in general on every type of non living subjects.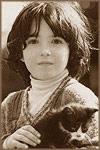 Our work comes from a common desire to create a balance between tradition and an unlimited freedom in forms, colours and sensations. The acrobatic collaboration between needles, threads, pins and more, making the "poetic textiles" of Quisquilia & Pinzillacchera which opened in autumn 2000.

Our creations are exclusively made by hand; unique pieces including puppets, marionettes, dolls, hats, albums, accessories and much more... Categories make little sense to us... they all merge together and margins between them are luckily hard to find.

Our most used material is fabric, but yet again contaminated with numerous other materials...felt, leather, wood, etc. The ingredients used always depend on what is needed to make the idea come true.

So day by day desires take on form, sometimes with enthusiastic input from the clients who give ideas or precise requests, for example portrait dolls or portrait soft toys of animals, and we enthusiastically enjoy making them come true.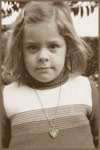 Elena

"Io materia inutilizzabile vado in giro scollando le geometrie di sole dalle superfici urbane quando sono stanca mi siedo e ti domando: hai mai provato a tenere una rana viva dentro la bocca?"